How to Handle a Revoked 501(c)(3) Status in 4 Steps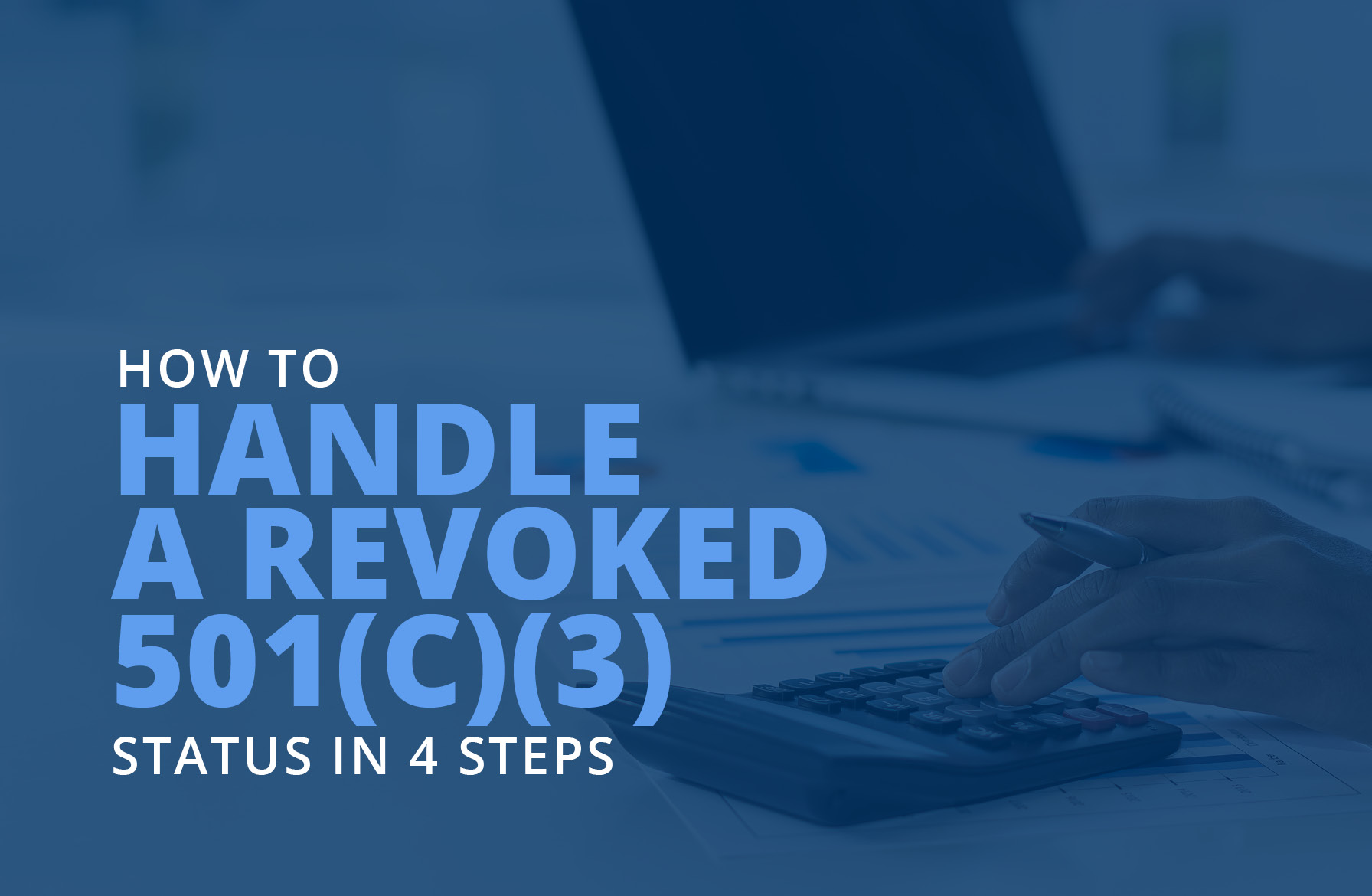 Some days, there are pieces of mail you really wish you didn't receive. Bills, late notices, warranty expirations, or recalls on your car are all examples of items we'd rather not get. But one piece of mail you really don't want to see in your mailbox is IRS Notice CP120A—Notice of Revocation of Tax-Exempt Status.
As a result of the 2006 Pension Protection Act, the IRS automatically revokes the 501(c)(3) tax-exempt status of any nonprofit that fails to file Form 990 for three consecutive years. Notice CP120A is the letter the nonprofit receives that informs them that this has happened. This auto-revocation of 501(c)(3) status will usually happen without warning and is not appealable.
Thankfully, the IRS has a process in place that allows nonprofits to regain their 501(c)(3) status. This guide explores four steps your nonprofit should follow to do this:
Publicly Address Your 501(c)(3) Status Revocation
Do Not File New Articles of Incorporation
Apply for 501(c)(3) Status Reinstatement
Don't Risk Having Your 501(c)(3) Status Revoked Again
Each month, the IRS updates its list of automatic revocations—follow these four steps if your nonprofit finds itself on that list.

1. Publicly Address Your 501(c)(3) Status Revocation
Effective as of the revocation date on your CP120A notice, your nonprofit is no longer a tax-exempt charity. This means you no longer have 501(c)(3) status and donations to your organization are not tax-deductible to the donor.
As a result, your first step in addressing your revoked status should be outwardly reflecting this change. Update every channel that mentions your 501(c)(3) status, including:

Donation solicitations. Continuing to solicit donations either explicitly or implicitly communicates that your organization is still a 501(c)(3). Remove "tax-deductible" language from any messages that ask supporters to donate.
Your organization's website. Revise any descriptions of your nonprofit as a "tax-exempt organization." You might also add a notice to your website, briefly stating what happened and what your next steps are for clarity and transparency.
Communication channels. Check your email templates, social media channels, and newsletters for mentions of your 501(c)(3) status.
Transparency about your status revocation is important for two reasons. First, allowing your donors to believe your nonprofit still has tax exemption could violate state and federal statutes, leaving your nonprofit leaders guilty of fraud. Your donors might still be allowed to claim their donation if they can prove they believed it was tax-deductible, but your nonprofit will face penalties and injunctions.
Second, clarity about your nonprofit's status can build trust among supporters. Gaining public support is important to the success of your nonprofit for many reasons, and admitting your organization's slip-up is a good way to start. Donors will appreciate that your nonprofit is looking out for their best interests and know that they can trust you to keep them in the loop.
2. Do Not File New Articles of Incorporation
Think back to the early days of your organization. You were planning a course of action to address an issue and filing all the necessary paperwork to incorporate your nonprofit. The startup phase required many steps, such as:
Obtaining a Federal Identification Number (FEIN)
Filing Articles of Incorporation
Drafting bylaws
Filing Form 1023
Losing your 501(c)(3) status doesn't mean all of this hard work is lost. State incorporation is what makes your nonprofit a real entity. 501(c)(3) status is just how the IRS categorizes your organization for tax purposes.
Assuming you've been following your state's requirements, like filing a corporate annual report each year, your nonprofit still legally exists as a nonprofit corporation. There is no need to file new Articles of Incorporation—just verify that your corporate status is still active at the state level. Then, you can apply for 501(c)(3) status reinstatement.
3. Apply for 501(c)(3) Status Reinstatement
Once your status has been revoked, you have to apply to the IRS to get it back. You will use Form 1023 just like you did the first time, except you will need to indicate that it is an application for reinstatement, not a first-time filing. Be prepared to provide the same level of detail as before, except you will be mostly reporting prior year activities rather than a forward-looking projection.
Since you missed three years of Form 990 filing, you may have to make up for lost time by preparing the forms that were supposed to be filed. This depends on your nonprofit's gross receipts and total assets for those respective years: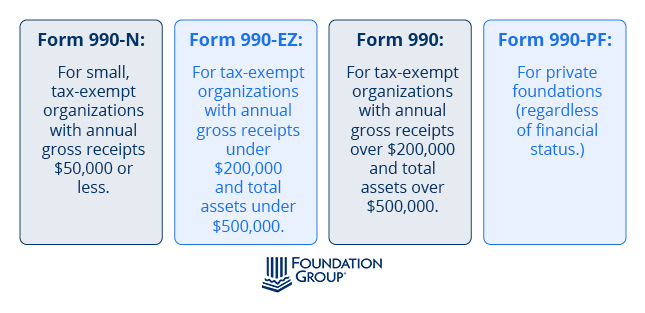 Form 990-N: For small, tax-exempt organizations with annual gross receipts of $50,000 or less. If your nonprofit missed three years of filing Form 990-N, you won't need to prepare and file for the missed years with your new Form 1023 application.
Form 990-EZ: For tax-exempt organizations with annual gross receipts under $200,000 and total assets under $500,000. If your nonprofit was supposed to file this form for even one of the three missed years, you'll have to prepare and file it with your new Form 1023 application.
Form 990 (standard form): For tax-exempt organizations with annual gross receipts over $200,000 and total assets over $500,000. You'll also have to prepare and file this form for all three years if you were supposed to file this for even one of them.
Form 990-PF: For private foundations (regardless of financial status).
For example, let's say your nonprofit needed to file Form 990-N in 2021 and 2022. Then, in 2023, your fundraising success skyrockets! Your annual gross receipts exceed $200,000 and you need to file Form 990 (the standard form). If you missed all three of these filings, you'll need to prepare and file the higher level of Form 990 for all three years with your new Form 1023 application. That means you'd prepare Form 990 (the standard form), for 2021, 2022, and 2023.
The IRS will likely have follow-up questions once they receive your application, but you should be able to have your tax-exempt determination restored if your program is still 501(c)(3) qualifying.
4. Don't Risk Having Your 501(c)(3) Status Revoked Again
Ideally, your nonprofit's 501(c)(3) status will never be revoked. But if it happens, learn your lesson the first time around, and don't let it happen again.
Maintaining proper compliance is more than a best practice recommendation—it's a legal necessity. Failure to file Form 990 not only jeopardizes your tax-exempt status but also signifies a disregard for transparency and accountability.
Maintain Your 501(c)(3) Status
The best way to never lose status is to always keep complete and accurate financial records and to file Form 990 with the IRS every year. This regular maintenance will always keep your nonprofit in good graces.
If you don't have the time or resources to keep up with these requirements, reach out to Foundation Group's team. From bookkeeping to compliance services, Foundation Group can take care of your nonprofit's yearly filings so that you can focus on your mission. If you've already found yourself with Notice CP120A, it's not too late! We work with dozens of revocations every year. Reach out today so we can help you, too.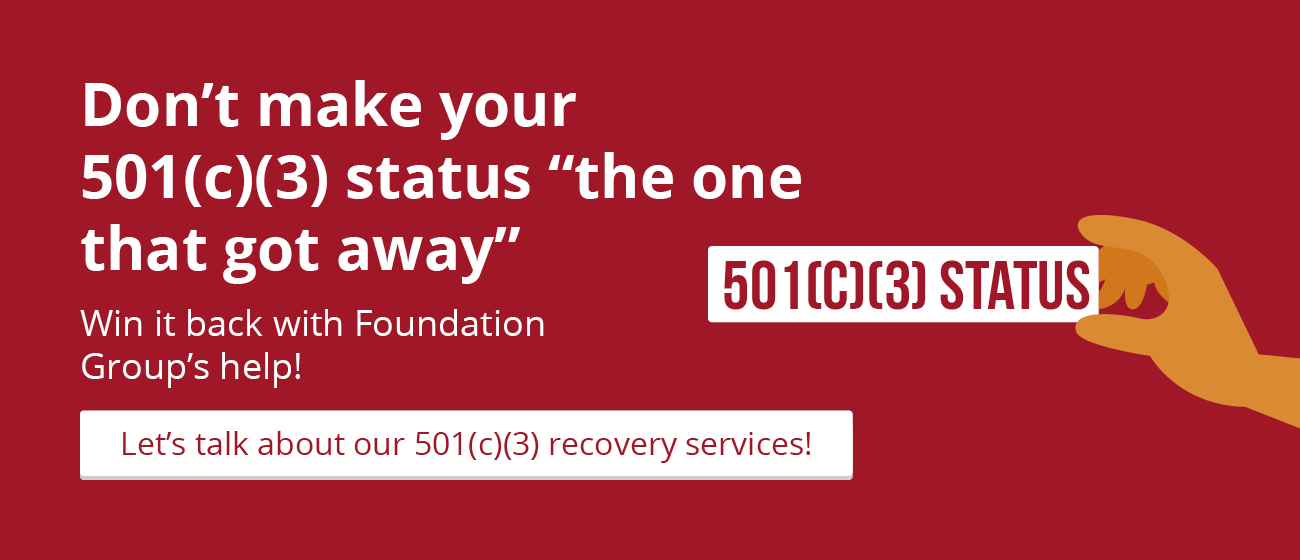 Join more than 45,000 others
who subscribe to our free, email newsletter.  It's information that will empower your nonprofit!