There are a number of terms that people often use interchangeably:  nonprofit, charity, tax-exempt organization, and 501(c)(3).  In reality, an organization could be one of those, all of those, or somewhere in between.  The terms do not necessarily mean the same thing.  So…
Watch Greg McRay, our Founder & CEO, Talk About 501(c)(3) Status
Section 501(c)(3) is the portion of the US Internal Revenue Code that allows for federal tax exemption of nonprofit organizations, specifically those that are considered public charities, private foundations or private operating foundations. It is regulated and administered by the US Department of Treasury through the Internal Revenue Service. There are other 501(c) organizations, indicated by categories 501(c)(1) – 501(c)(29). This discussion will focus on 501(c)(3).
Entities that can seek 501(c)(3) determination from the IRS include corporations, trusts, community chests, LLCs1, and unincorporated associations. The overwhelming majority of 501(c)(3) organizations are nonprofit corporations.
Provisions Unique to 501(c)(3)
One of the most distinct provisions unique to Section 501(c)(3) organizations as compared with other tax exempt entities is the tax deductibility of donations. 26 U.S.C. § 170, provides a deduction, for federal income tax purposes, for donors who make charitable contributions to most types of 501(c)(3) organizations2.
Other unique provisions tend to vary by state. Like federal law, most states allow for deductibility for state income tax purposes. Also, many states allow 501(c)(3) organizations to be exempt from sales tax on purchases, as well as exemption from property taxes. Special nonprofit, bulk rate postage discounts are available from the Post Office to qualifying organizations.
Religious
Charitable
Scientific
Testing for Public Safety
Literary
Educational
Fostering of national or international amateur sports, and
Prevention of cruelty to animals and children
Get a Free Copy of Our Startup Guide for New Nonprofits
Learn how to navigate 10 issues and challenges facing every new social entrepreneur.  Our free resource guide will equip you with the knowledge you need to get off to the right start.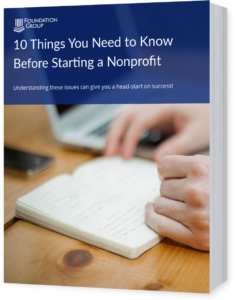 Types of 501(c)(3) Organizations
501(c)(3) organizations fall into one of three primary categories: public charities, private foundations, and private operating foundations.
Public charity.  Public charities are what most people recognize as those organizations with active programs.  Examples include churches, benevolence organizations, animal welfare agencies, educational organizations, etc.  They usually receive a substantial portion of its revenue from the general public or from government.
In order to remain a public charity (and not a private foundation), a 501(c)(3) must obtain at least 1/3 of its donated revenue from a fairly broad base of public support. Public support can be from individuals, companies and/or other public charities.
Donations to public charities can be tax deductible to the individual donor up to 60% of the donor's income2,3. Corporate limits are generally 10%. In addition, public charities must maintain a governing body that is mostly made up of independent, unrelated individuals4.
Private foundation.  A private foundation is often referred to as a non-operating foundation, as they typically do not have active programs. They are not required to be publicly supported, so revenue may come from a relatively small number of donors, even single individuals or families.
Private foundations are usually thought of as nonprofits which support the work of public charities through grants, though that is not always the case. Donations to private foundations can be tax deductible to the individual donor up to 30% of the donor's income. Governance of a private foundation can be much more closely held than in a public charity. A family foundation is an example of a private foundation.
Private operating foundation.  The third category is the least common: private operating foundation. These organizations often maintain active programs similar to public charities, but may have attributes (such as close governance) similar to a foundation. As such, private operating foundations are often considered hybrids. Most of the earnings must go to the conduct of programs. Donation deductibility is similar to a public charity.
Restrictions on Activities
501(c)(3) organizations are highly regulated entities. Strict rules apply to both the activities and the governance of these organizations. No part of the activities or the net earnings can unfairly benefit any director, officer, or any private individual.
In addition, all assets are permanently dedicated to a charitable purpose.  In the event that a 501(c)(3) organization must cease operations, all assets remaining after debts are paid must be distributed for a charitable purpose.
Further, lobbying, propaganda or other legislative activity must be kept relatively insubstantial5. Intervention in political campaigns or the endorsement/anti-endorsement of candidates for public office is strictly prohibited.
Obtaining 501(c)(3) Status
In order for a corporation or other qualifying entity to receive 501(c)(3) status, it must apply to the IRS for recognition by filing Form 1023 (or Form 1023-EZ), Application for Recognition of Tax Exemption. The application is a thorough examination of the organization's structure, governance and programs.
Under very limited circumstances, LLCs can legally seek status as a 501(c)(3), tax-exempt organization. A qualifying LLC must have its entire membership made up of other recognized 501(c)(3) organizations. LLCs with individual or non-tax-exempt entity members cannot apply for status.  LLCs are NOT eligible to file Form 1023-EZ.
Regulations specify which such deductions must be verified in order to be allowed.
Other tax and income circumstances can affect the deductibility of contributions to public charities.
Unrelated can mean by blood, marriage and/or outside business connection.
Some lobbying, both direct and grassroots, is allowable, but should not represent more than 10-20% of the organization's activities, nor consume any more than 10-20% of the resources of the organization.  Nonprofits that engage in lobbying activity are discouraged from filing Form 1023-EZ and should file a complete Form 1023.