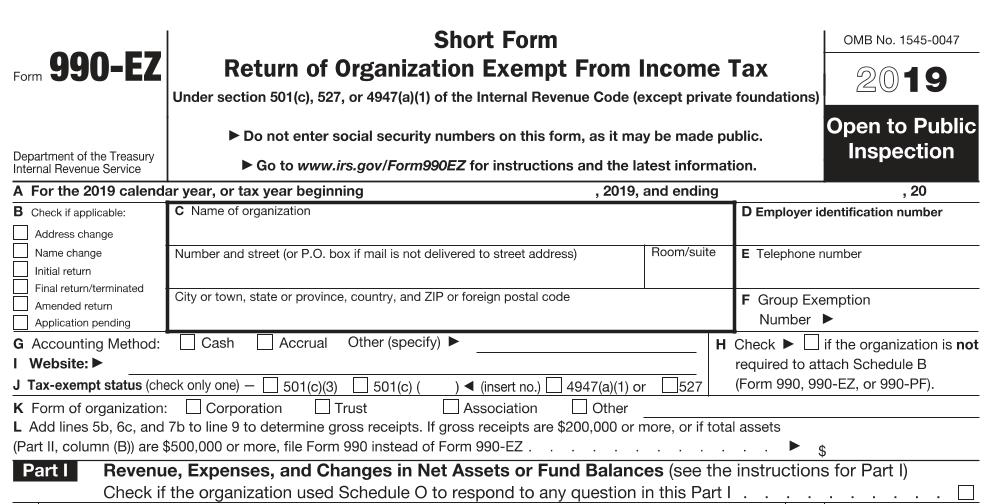 This article is the third in our series that explores the various versions of IRS Form 990.  Form 990-EZ is annual information return filed by small-medium sized public charities and certain other nonprofits, at least as measured by gross revenue.
Description and Components
The name itself, Form 990-EZ, is somewhat of a misnomer.  While it is certainly easier to prepare than other full-form variants, it is by no means easy.  It is the lowest threshold version that really resembles a corporate tax return, only more thorough.  The IRS is looking for all the demographic information contained in Form 990-N, plus:
A full accounting of income and expenses by category
Details on grants and distributions given by the nonprofit
Balance sheet that aligns with the income and expense information
Details about specific program accomplishments and associated expenses
A list of current board members, their addresses, hours worked for the organization, and details regarding any form of compensation, whether cash or benefits
Quite a few Yes/No/Explain type questions covering topics from conflict of interest to indoor tanning services (not kidding about that one!)
Details regarding compensation of executive staff
A breakdown of the sources of income over the past 5 years (or the life of the nonprofit, if operating less than 5 years)
And, finally, details on any donors to the organization generally giving more than $5,000 during the past year
Form 990-EZ Filing Requirements
Like all versions, Form 990-EZ is due on the 15th of the 5th month, following the end of the fiscal year.  There is a paper version of the form which may be filed by mail, as well as the ability to file electronically with the IRS (which they prefer).  A six-month extension is available by filing IRS Form 8868 by the original due date of the return.
Another stipulation, and the most important one, is the associated revenue and asset-valuation thresholds.  In order to qualify to file Form 990-EZ, a nonprofit should have gross income of more than $50,000, but less than $200,000 during the past fiscal year.  In addition, the total valuation of all assets should be less than $500,000.  If an organization's assets are worth more than that, a full Form 990 will be required, regardless of revenue.
A question we encounter rather frequently involves nonprofits with annual gross revenue that tends to hover right around the lower or upper end of the range, often jumping back and forth across the line from year to year.  In most cases, it is considered best practice to file up and stick with that choice.  In other words, if a nonprofit usually finds itself liable for Form 990-N some years , and Form 990-EZ in others, stick with Form 990-EZ every time.  The same holds true for organizations at the upper end.  File the full Form 990 every time.
Why?  It's never wrong to err on the side of more disclosure and more transparency.  Plus, if your nonprofit finds itself liable for the longer version in alternating years, it's usually better for your board, staff, and third-party compliance providers to have a consistent preparation and filing experience each year.  You may not be legally required to follow this advice, but it's still good advice!
If you need assistance with Form 990-EZ, or any other version, be sure and let us know. We're here to help.
Join more than 45,000 others
who subscribe to our free, email newsletter.  It's information that will empower your nonprofit!