Using a 509(a)(3) Supporting Organization as a Private Foundation Alternative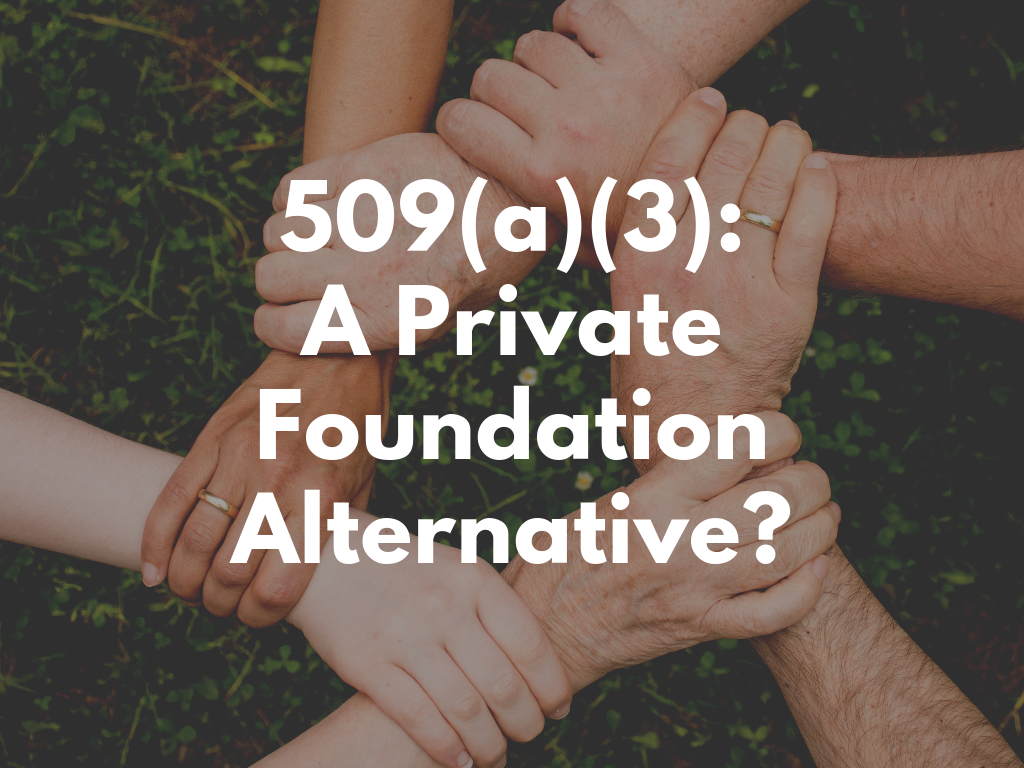 "What Is a 509(a)(3) Supporting Organization?".  Now, we want to take a look at one way to take advantage of this unique structure.
A Common Use Case: As An Alternative to a Private Foundation
Private foundations are excellent 501(c)(3) choices to establish for the purpose of donating into it, and using it to fund charitable activities over time.  A key benefit of a private foundation for many is the level of control it offers to the founders.  Unlike public charities, private foundations are not required to have an independent board of directors, nor are they required to have a broad base of donors.  That's why you often see foundations established by high net worth families or companies wanting more control over their philanthropic endeavors.
For larger donors looking to primarily support a specific charity, however, who don't want to personally give directly to that charity, private foundation rules may prove to be too burdensome.  For starters, there are strict rules governing self-dealing that limits compensation to directors and other disqualified persons.  Also, there are limits on the type of assets that can be donated to a private foundation and the timing of tax benefits to the donor.
For example, the tax-deductibility of cash gifts to private foundations is limited to 30% of adjusted gross income (AGI) in any given year, not the current 60% of AGI limit afforded donations to public charities.  Similarly, tax-deductibility of gifts of certain appreciated property is subject to a 20% AGI limit vs. 30% for public charities.
To make matters worse, donations of appreciated property are not deductible at full fair market value when given to private foundations, unlike those given to public charities.  The valuation can be reduced by the untaxed appreciation, effectively lowering even more the true tax benefit of giving appreciated property.
And finally, investment earnings of private foundations are subject to up to 2% excise tax.
For these reasons, a private foundation may not be the ideal choice when a single public charity is meant to be the ultimate beneficiary.  Enter the 509(a)(3) supporting organization.
One of the biggest advantages of a supporting organization over a private foundation is the fact that the former is considered a public charity.  As such, the tax-deductibility of cash gifts and appreciated property is potentially higher.  Appreciated property valuations aren't reduced by untaxed appreciation.  Supporting organizations, again because of being public charities, are not subject to the earnings excise tax.
There are some obvious tradeoffs to this choice, however.  First, unlike a private foundation, a supporting organization cannot have a closely controlled board of directors.  In addition, there will likely need to be overlap or even duplication of the board members from both the supporting organization and the supported public charity.  The degree of overlap depends on the choice of a Type I, Type II, or Type III supporting organization.
Also remember that a supporting organization is, by default, considered subordinate to and controlled by the charity it supports.  This lack of independence is often the reason the same large donor above may indeed choose a private foundation instead of a supporting organization.  The tax benefit might not outweigh the freedom factor.
As with most complex issues like this, the choice between a supporting organization and a private foundation in this unique situation is far from automatic.  It requires careful analysis to ensure that the balance of benefits falls the right direction and positively impacts both the funding organization and the ultimate recipient charity.