Pros and Cons of Using Form 1023-EZ for Starting a Nonprofit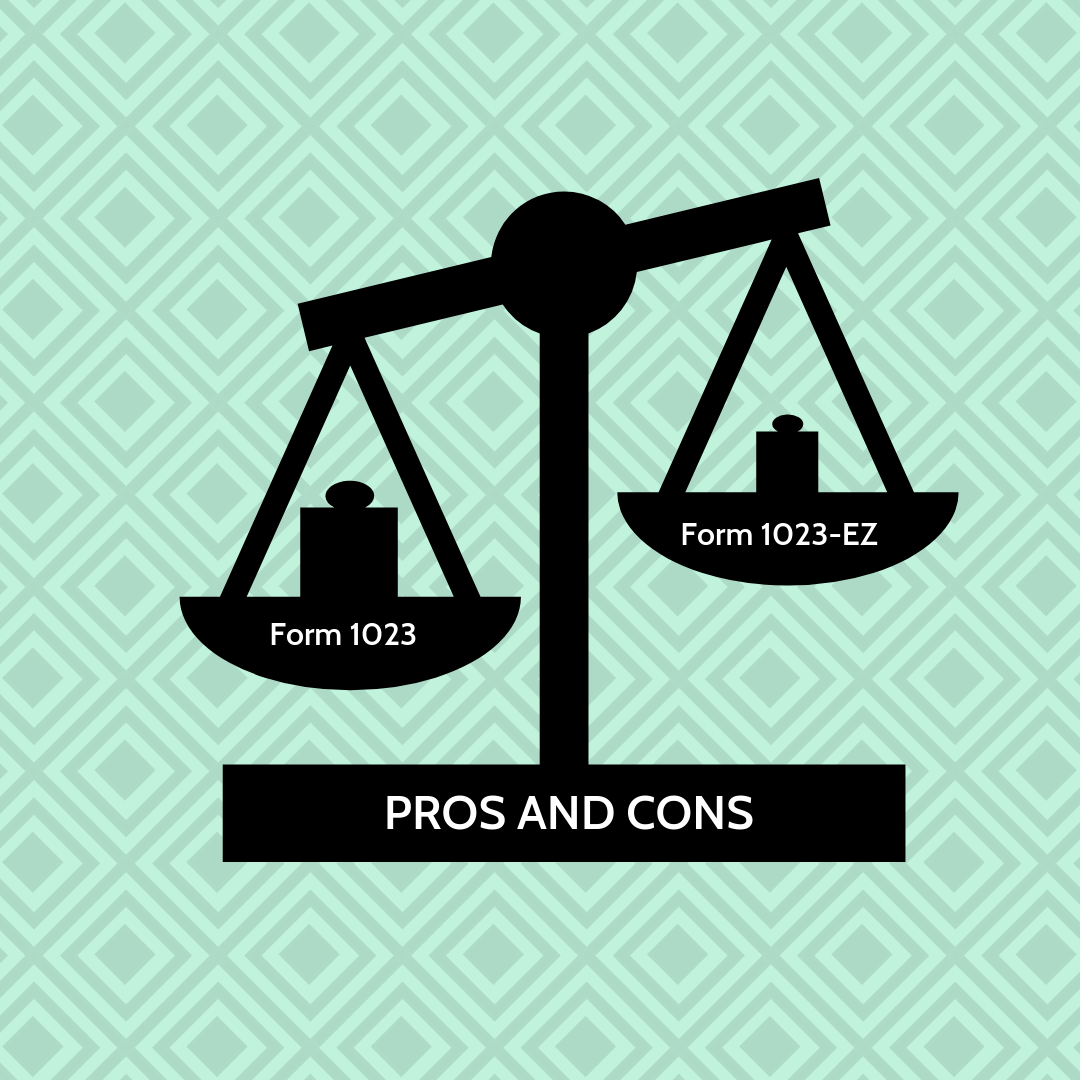 Nonprofits seeking federal tax-exemption under Section 501(c)(3) of the Internal Revenue Code have for decades applied by filing Form 1023 with the IRS.  In 2011, the National Taxpayer Advocate recommended that the IRS develop a simplified method, particularly for small nonprofits.  The IRS ultimately followed that recommendation, but far more extensively than anyone anticipated.
A (Mostly) Surprise Launch
March 2014…The IRS posted a surprise announcement in the Federal Register.  They were soliciting comments on their intent to introduce a new, streamlined process for smaller nonprofits seeking 501(c)(3) status.  The proposed process included a new application, Form 1023-EZ, that would be online only, and would be accompanied by a lower filing fee.
The Federal Register posting also indicated that "small nonprofit" was going to be defined by anticipated gross revenue of up to $200,000 per year.  The proposal overall was roundly criticized in the nonprofit community (more on that below), especially the part about $200,000 in annual revenue being the upper threshold.  By that standard, over 90% of applicant organizations would have qualified as "small".
The IRS relented on the issue of income, but nothing else.  On July 1, 2014, the IRS released Form 1023-EZ, fileable by applicant nonprofits expecting under $50,000 in gross receipts each of its first three years.  It was a significant concession, but it did little to quell the concerns, as more than 70% of new nonprofits could still qualify.  That has proven true…approximately that percentage of new nonprofits used Form 1023-EZ in 2018 rather than the traditional full Form 1023.
Annual income isn't the only qualifying limitation.  There are other purpose, structure, and asset-based limitations on qualifying for this process.  For example, neither schools nor churches can use Form 1023-EZ.  Organizations with more than $250,000 in total assets can't either.
Form 1023-EZ has been a mixed bag, to say the least.  The rest of this article will take a look at the pros and cons of this streamlined process.
It is easier.  The standard Form 1023 is 26 pages, including sub-schedules.  And while not every nonprofit has to complete every sub-schedule, the final filing package for most applicants ranges from 50 to 100 pages once you include all the required documentation. Form 1023 is chock-full of very complex, technical questions that require an in-depth understanding of tax compliance issues.
Form 1023 applicants must also include a 3 year budget, a written narrative description of their proposed programs, and copies of their Articles of Incorporation and bylaws.  In addition, they may have to include copies of leases, contracts, board meeting minutes, resumes of officers and directors, and more.  It's a lot of stuff.
Form 1023-EZ is made up of 3 online-only pages of mainly "yes/no" attestations…no budget, no narrative (beyond a purpose statement), and no attachments.  The IRS calls this process streamlined, and they aren't kidding about that.
It is less expensive.  When Form 1023-EZ was first released, the filing fee was $400.  In 2017, the fee was reduced to $275.  That is considerably less expensive than the $600 filing fee associated with the standard Form 1023.
It can be helpful to true micro-charities.  We don't subscribe to the idea that most small nonprofits should use Form 1023-EZ.  But for some groups, it has been beneficial.  Good candidates include micro-charities that have very simple programs, those that tend to be very local in nature, and/or those that never intend to seek grants or corporate donations.  Kids' sports clubs, booster clubs, and similar groups can benefit from this easier process.
It encourages DIY.  You might be surprised to find this point listed as a con instead of as a pro.  But we feel strongly about this point.  Most trade groups representing nonprofits, along with virtually every state Attorney General's office opposed Form 1023-EZ's release, and continue to speak out against it now.
Starting a successful nonprofit is NOT a do-it-yourself project.  It starts with a good business plan, but it has to be one that is compliant with state and federal law.  Very few would-be social entrepreneurs are experts in the complexity of nonprofit tax law.  I've made a career of this for over 25 years, and there is scarcely a week that goes by that I'm not having to research a complicated issue for a client that even I can't answer off the top of my head.  With the introduction of Form 1023-EZ, tens of thousands of new nonprofits have gotten started with virtually no understanding of the issues they face, or the significant liability and risk associated with non-compliance.
It encourages fraud.  Ever since there has been a federal tax code, con artists and hucksters have looked for ways to manipulate it for their benefit.  Many have attempted over the years to set up sham charities to take advantage of good-hearted people, only to pocket the money for themselves.  The complete Form 1023 process at least provides a formidable barrier to fraud.  It doesn't completely prevent it, but it makes it harder.
Not so much with Form 1023-EZ.  Most applications are computer-approved.  If someone knows which answers to check "yes" or "no", and if they can come up with a reasonably plausible charitable purpose sentence, their application will likely be approved with no supporting documentation required.  That is not a good thing.
We mentioned the Taxpayer Advocates office at the beginning of this article.  The idea of a simpler process originated with them, but they never intended for the process to become a rubber-stamp.  In 2016, their office examined 1,000 random nonprofits who had their 501(c)(3) status approved using Form 1023-EZ and found that nearly half weren't even legally incorporated!
It encourages unscrupulous companies.  When Foundation Group opened its doors almost 24 years ago, we were the first specialty tax firm in the US to provide nonprofit formation services to new nonprofits nationwide.  Since that time, there have been others to come along, some good, and many not-so-good.  Sadly, most of our biggest competitors have decided to leverage Form 1023-EZ as a profit-center, encouraging most prospective customers to use the process, even when they don't qualify or would be better served by the standard process.  We know because we regularly shop them.  It amounts to malpractice and it takes advantage of the lack of understanding that many startup founders have regarding tax compliance.
States have had to step into the gap.  Along with state AGs, the Taxpayer Advocate has continued to ask the IRS to significantly strengthen the Form 1023-EZ process.  The IRS defends the current system by pointing out that they randomly select up to 5% of applicants for stringent examination.  But given that over 50,000 nonprofits successfully used Form 1023-EZ in 2018, that means that 47,500 were not thoroughly evaluated.  As a result, the states have aggressively ramped up examinations and audits of small nonprofits out of concern that the IRS is not fulfilling its duty to oversee the nonprofit community.
It is negatively impacting grant funding opportunities for small nonprofits.  Since Form 1023-EZ was released, many grant-making foundations have adopted policies against accepting grant applications from nonprofits that received 501(c)(3) status using the streamlined process.  They understand that these charities have not been sufficiently vetted at the federal level and will not fund them.  We advise all of our clients that qualify to file Form 1023-EZ to use the standard full process if they even think they might seek grant funding at some point.
Starting a Nonprofit Should Be Somewhat Difficult
The full Form 1023 process has been described as a gauntlet, but it serves a great purpose.  As someone who generally despises red tape, I struggle a little bit saying that.  But having worked with many thousands of clients over the years, the extended process and documentation necessitates a more deliberate approach.  It allows time for nonprofit founders to evaluate their business plan against the realities of tax compliance, and to tweak, trim, and adjust it to make it work most successfully.  And since it requires a real IRS review, the applicant, donors, and grant-makers alike can have confidence that this organization is a legitimate 501(c)(3) charity.
We're not opposed to a simpler process for the smallest nonprofits.  In fact, we use Form 1023-EZ with our clients that are well-suited for it.  But even with those clients, we take the time to work with them to ensure their organization is established according to compliant, best-practice.
Form 1023-EZ isn't going anywhere…it's here to stay.  Understanding the extent of the problems associated with the streamlined process, however, will hopefully result in more small charities opting to invest in their future by taking the longer road.