How To Simplify Your Fundraiser With Volunteer Management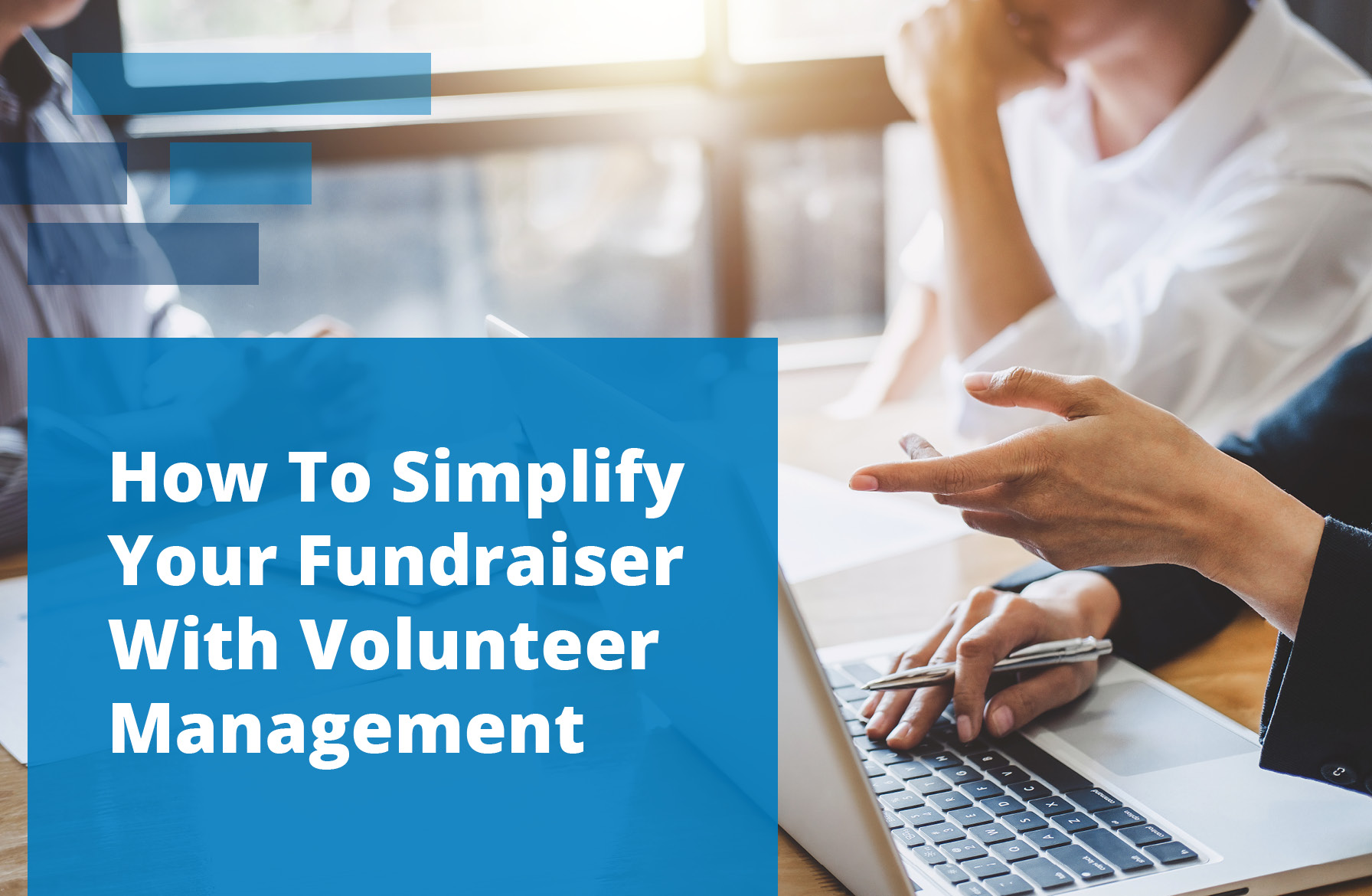 The following is a guest post from Snowball.
Volunteers can play a significant role in keeping fundraising events running smoothly, especially when given the tools they need to be successful in their efforts.
Whether you outsource your bookkeeping needs, partner with a marketing expert, or enlist the help of volunteers, delegation is an important part of fundraising for your nonprofit. But volunteers provide more than just manpower—a properly managed volunteer team will simplify your push for donations.
Volunteer management is the process of working with volunteers to accomplish an organization's goals. Effective management requires nonprofits to equip, supervise, and engage volunteers while they actively help to further a cause. To conduct effective management, your nonprofit must:
Provide volunteer training before the fundraiser
Track volunteers' fundraising hours and activities
Offer skill-based volunteer roles
Managing the people who are managing your fundraiser will streamline the process and heighten your success. Let's start at the beginning with fundraiser preparation.
Provide volunteer training before the fundraiser
At the onset of your fundraiser, equip volunteers with all the information they need to fulfill their important roles. Ultimately, your fundraiser will be simplified when your volunteers know exactly what to do—After all, volunteers can only do their jobs efficiently if they know how!
Before launching your fundraiser, hold a training session with your volunteers to prepare them for their roles. Some things you might cover during training include:
Fundraiser basics: Explain all the details about the fundraiser, including how it works, the process of donating, and the order of activities if it's an event. Volunteers should have a solid understanding of what they're involved in, but should also be able to explain it to supporters. For example, a volunteer must understand how mobile giving works before giving instructions to prospective donors.
Roles and responsibilities: Get specific with the details about volunteers' roles and responsibilities. Share your expectations for the jobs they'll complete and how they should carry out these roles. For example, you might inform volunteers that you expect them to refrain from using their phones during a fundraising event.
Brand messaging: During a fundraising initiative, volunteers act as representatives of your organization. Ensure they know how to represent your nonprofit, from the way they describe your cause to their attitudes when talking to donors.
If your budget allows, prepare materials to help volunteers navigate their roles in your fundraiser. For example, clipboards, pamphlets, or even technological devices might help them run your event. You might also invest in fundraiser-specific software that volunteers can access and use to accept donations, communicate with each other, and complete any other tasks they're given.
Well-equipped volunteers will simplify your fundraiser because they're prepared to fulfill their roles efficiently. With the whole team on the same page, you can delegate tasks to volunteers with confidence.
Track volunteers' fundraising hours and activities
Your volunteers' progress directly impacts the progress of your fundraiser. That's why data collection is an important part of effective volunteer management—activity tracking gives you better insight into your volunteers' fundraising progress. Just like you'd calculate the amount of money raised by your fundraiser, you should also record your volunteers' efforts, including:
Hours volunteered: Record the amount of time your volunteers have contributed to your fundraiser. Hour tracking might reveal who dedicates the most time or patterns in your volunteers' availability.
Their specific roles: Your volunteers bring different things to the table, especially when they carry out different tasks!
Significant accomplishments: Have donors mentioned a specific volunteer's helpfulness or attributed their support to the volunteer's action? Noting significant accomplishments will not only help your future appreciation efforts but will also give your nonprofit better insight into the efforts of your volunteers.
Becoming familiar with your volunteers' availability, skills, and stand-out moments allows your nonprofit to delegate the right tasks to the right people. Then, you can supervise the fundraiser knowing it's in good hands.
A digital database will make it easy to record this information and track relevant patterns. Bloomerang's guide to volunteer management software recommends using a platform that allows volunteers to sign in, access any necessary documents, and communicate with fellow volunteers. A comprehensive platform like that will give your volunteers the tools they need to help simplify your fundraiser while also tracking data for your nonprofit.
Offer skill-based volunteer roles
Your volunteers likely won't file Form 990 or manage your staff's payroll. Some roles require specific qualifications, but some volunteers bring certifications to the table that they obtained prior to getting involved with your organization.
As volunteers deepen their involvement, you'll learn more about them and their unique skills. Observing these qualities allows your nonprofit to better engage its volunteers and get them excited about your fundraiser. For example, some of your volunteers may show exceptional:
Leadership qualities: Some volunteers have professional experience with leadership or may have natural leadership qualities! These individuals could lead other volunteers or make valuable additions to your staff or board of directors.
Role-specific experience: Leverage your volunteers' expertise by giving them authority over familiar roles. For example, a volunteer who works as a photojournalist might have the experience needed to photograph your fundraising event for social media posts or fundraising progress updates.
Tech-savviness: According to Snowball's list of top charity auction websites, the right tools can simplify fundraising event planning and execution. Recruiting tech-savvy volunteers to use this technology can not only simplify delegation but also enhance your digital activity, such as website development or digital marketing techniques.
Presenting opportunities that appeal to your volunteers' proficiencies will help them feel individually recognized and allow them to exercise their skills in an enjoyable role. Most importantly, your fundraiser will benefit from the expert skills of knowledgeable volunteers.
Volunteer management can exponentially enhance the results of your fundraiser—when done correctly! To gain further insight into the volunteer experience, ask them directly. Then, you can adjust your management approach accordingly.
Your volunteer management techniques not only affect the workflow of your fundraiser and the volunteer experience but also your nonprofit's reputation. Remember, your volunteers act as representatives of your organization, not only during the fundraiser but also in their personal lives. When you consider their satisfaction, your nonprofit's positive reputation will garner even more support for your fundraising efforts.
Join more than 45,000 others
who subscribe to our free, email newsletter.  It's information that will empower your nonprofit!