Client Spotlight: Niki Feezle Explosion of Hope Foundation
The Foundation Group is extraordinarily blessed to work with a huge variety of incredible charities.  Over the years, we've had the privilege of helping over 13,000 nonprofits get started.  Among those are our friends at the Niki Feezle C.F. Explosion of Hope Foundation.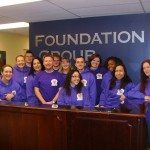 Foundation Group staff showing off their Niki Feezle Foundation t-shirts and hoodies!
Niki Feezle was diagnosed with Cystic Fibrosis at birth.  Doctors told her family that she would not live to see her first birthday.  Not only did Niki celebrate her first birthday, she proved them all wrong by continuing to celebrate 23 more!  Niki's fight finally came to an end at the too-young age of 24.
As a tribute to Niki, and to encourage hope for a cure for Cystic Fibrosis, Niki's family and friends formed the Niki Feezle Foundation.  This foundation serves to educate the public about CF and to raise research money for a cure.  We are tremendously grateful to be a small part of the effort, having helped this wonderful charity to get formed and receive 501(c)(3) status.  In addition, we continue to serve the foundation by providing ongoing compliance assistance.
Keep working hard, friends!  May your efforts help lead to a cure for CF.
For more information, visit Niki Feezle CF Explosion of Hope Foundation's website.