5 Essentials for Enhancing Your Nonprofit Volunteer Program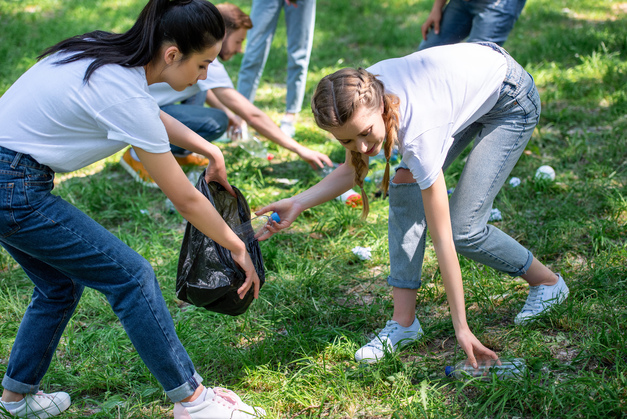 The following is a guest post from Bloomberg.
Volunteer work brings a ton of value to your organization—in fact, the current estimated value of a volunteer hour is $29.95! Volunteers support your ongoing projects, programs, and initiatives, all because of a strong passion for your mission.
Plus, volunteering offers real benefits for volunteers themselves, improving physical and mental health and increasing overall life satisfaction.
As a volunteer coordinator or manager, you're likely always looking for ways to improve your volunteer program. From recruitment to training and ongoing retention, there are many ways you can optimize each aspect of the volunteer management process.
In this guide, we'll cover these five tips to help you improve your volunteer program and the volunteer experience:
Expand your recruitment efforts to find skilled volunteers. 

Create a comprehensive training process. 

Track volunteers in a central location. 

Encourage volunteers to participate in fundraising.

Focus on volunteer retention.
Enhancing your volunteer process brings mutual benefits for your organization and its supporters, creating a more sustainable, long-lasting program.
1. Expand your recruitment efforts to find skilled volunteers.
The effectiveness of your volunteer program depends on the abilities of your volunteers themselves. A simple way to enhance your volunteer program overall is to intentionally seek out skilled volunteers and reach out to them to spark their interest.
Try these recruitment strategies to help find skilled volunteers:
Browse LinkedIn to search for potential volunteers.

Connect with potential volunteers whose profiles feature skills and experiences that align with your organization's needs. For example, if you're seeking volunteers to help edit your marketing materials, search for individuals with relevant experience, such as copywriters or editors. Direct message potential volunteers to engage with them personally and introduce them to your volunteer opportunities.

Provide a detailed overview of your program on your website.

Your website is the first place that many potential volunteers will visit to learn more about your organization. Ensure your

nonprofit website

includes thorough volunteer role descriptions and an overview of the purpose and goals of your program.

Use paid and organic SEO strategies.

Search engine optimization (SEO) is the process of developing website content that ranks highly on search engine results pages. Organic SEO strategies include ensuring that your website content is valuable, educational, and user-friendly. Paid SEO strategies include investing in ads on search engines like Google. By applying for the

Google Ad Grants program

, your nonprofit can gain access to $10,000 per month in free Google advertising to support your paid SEO strategies.
Make your volunteer information easy to find and your volunteer registration page easy to fill out. These strategies can help you get in touch with more skilled volunteers who are best suited to your open positions.
2. Create a comprehensive training process.
After recruitment, the next step of the volunteer management process is training new volunteers. Your training process can make or break the volunteer experience. A positive onboarding experience sets new volunteers up for success.
Make sure your volunteer training is as effective as possible by clearly explaining:
Role expectations and responsibilities.

Let volunteers know what they can expect from the position, including what they'll be working on and how long it will take.

How to use your equipment or supplies.

Make sure new volunteers are comfortable using any equipment or supplies, whether painting materials or packaging equipment.

Who to go to with questions.

Your new volunteers may have questions throughout their first shift, so make sure to let them know who to go to with questions.
A comprehensive training process helps new volunteers feel confident when taking on their roles. You can reduce confusion and hesitation, ensuring your projects keep running smoothly.
3. Track volunteers in a central location.
Keeping track of your volunteers is essential to developing a well-run volunteer program. Tracking volunteers' work and hours helps you understand the effectiveness of your volunteer initiatives as a whole. Also, collecting information about volunteers allows you to personalize your outreach by referencing their past involvement.
You can track volunteers in the same database you use to track donors. According to Bloomerang's guide to donor management software, tracking all supporters in the same system gives you a bird's-eye view of your organization, letting you identify your most engaged supporters and pull reports on all audience members.
A robust donor management system allows you to: 
Track volunteer involvement history.

You can understand when supporters first started volunteering, how frequently they volunteer, and their preferred roles. 

Gain insights into volunteers' giving potential.

Some volunteers may also be motivated to donate to your cause. Donor management software can help identify volunteers who have the capacity and likelihood to become donors. 

Segment volunteers to create personalized marketing content.

Using your donor management system, you can group volunteers based on shared characteristics, such as volunteer frequency or specific interests. Then, you can develop marketing content that appeals to each group, increasing the chances that volunteers will interact with your messages.
It's also helpful to look for a donor management system that integrates with your nonprofit's other tools, such as your fundraising software platforms or event management tools. This allows you to seamlessly transfer data from other software systems to your central database, keeping all information organized and easily accessible.
4. Encourage volunteers to participate in fundraising.
Volunteers can be some of your nonprofit's most valuable donors and advocates for your fundraising efforts. That's because they've been involved with your mission in a hands-on way and they have a strong emotional connection to your cause.
Volunteers are in a unique position to get involved in fundraising activities such as:
Peer-to-peer fundraisers.

If your organization hosts regular peer-to-peer fundraising campaigns, turn to your volunteers to ask them to participate. They can create individual fundraising pages to raise donations on behalf of your nonprofit and personalize the pages with their unique connection to your cause.

Volunteer grants.

Double the Donation defines volunteer grants

as corporate giving programs where businesses provide monetary donations to nonprofits where their employees regularly volunteer. Let your volunteers know about these programs and encourage them to check their eligibility with their employers.

Individual donations.

Provide easy donation options for volunteers who are motivated to give so they can show their support. Highlight your online donation page on your volunteer website and offer a QR code at your volunteer opportunities so volunteers can give whenever and wherever.
Since volunteers have already shown a proven interest in and passion for your mission, they're a natural group to turn to for fundraising support.
5. Focus on volunteer retention.
Boosting your volunteer retention rate is just as important as increasing your donor retention. Improving volunteer retention gives your nonprofit access to reliable support and provides continuity for your projects and programs. Plus, it can help your nonprofit save money that would otherwise constantly be spent on new volunteer acquisition efforts.
Foster long-term volunteer relationships using these strategies:
Create a comprehensive appreciation strategy.

Send thank you emails to volunteers after each opportunity to express your appreciation and summarize what volunteers were able to accomplish. Personalize these letters with volunteers' names and references to their past support.
Ask for volunteers' feedback.

Send a feedback survey after volunteers have attended a few opportunities to gather their insight. Ask questions about their level of satisfaction with the training process and volunteer opportunities and suggestions they have for improving the program. 
Use data to improve the volunteer experience. Gather data from your volunteer surveys along with metrics you collect over time, such as your volunteer retention rate or attendance rate. Use this information to make tangible improvements to your program, whether that means offering a wider variety of volunteer roles, more events on the weekends, or opportunities for volunteers to take on leadership roles.
Providing volunteers with a positive experience incentivizes them to continue engaging with your organization, boosting your retention rate. Be sure to track your volunteer retention rate in your donor management system to note positive and negative trends and adjust your retention strategy accordingly.
Your organization likely has a wide group of current and potential supporters who are eager to help. Using these strategies, you can harness their passion and enthusiasm for your cause and create a better experience for your volunteers.
Join more than 45,000 others
who subscribe to our free, email newsletter.  It's information that will empower your nonprofit!