Reaching Donors with Direct Mail: 4 Best Practices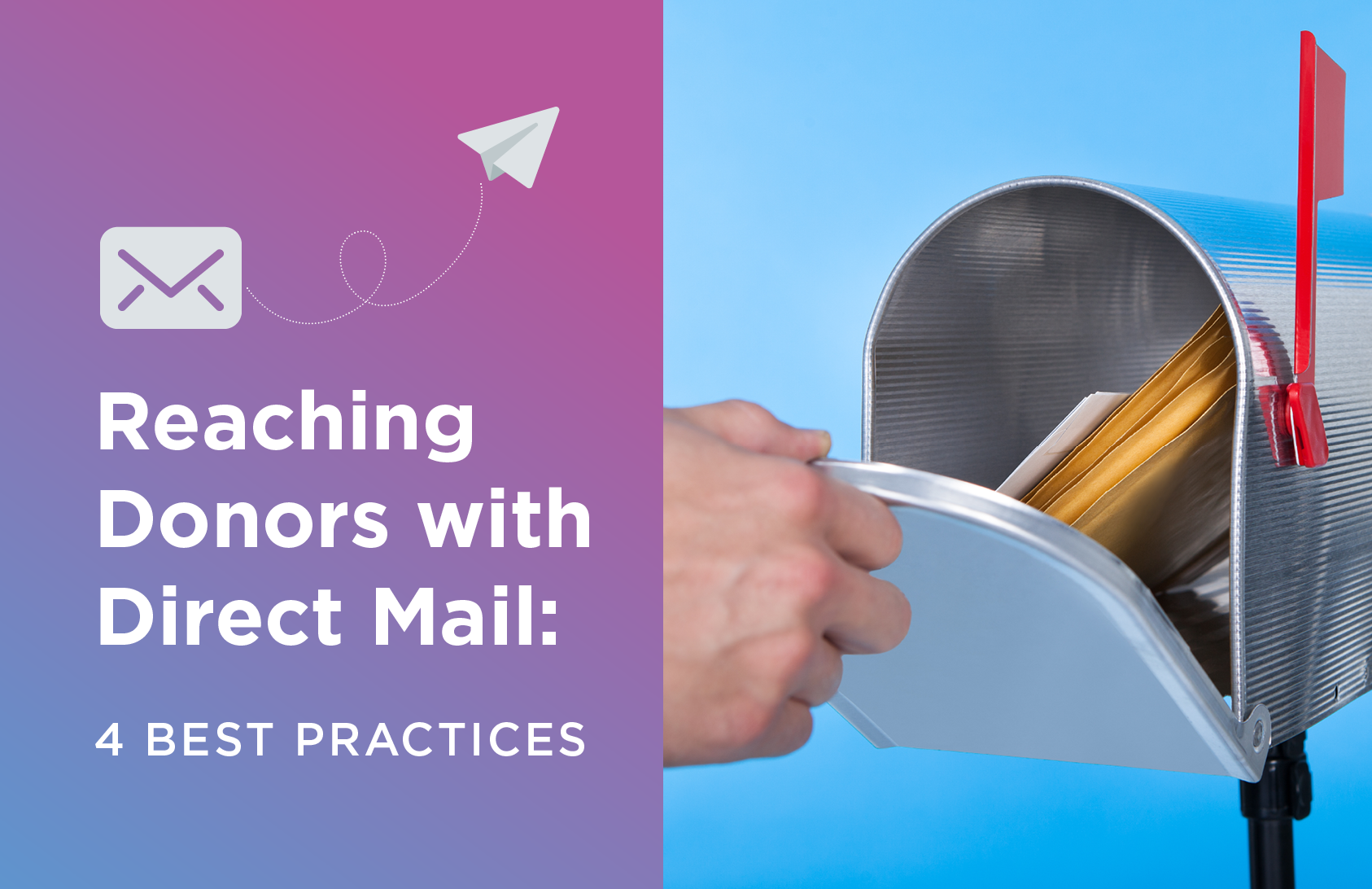 Direct mail can be a powerful channel for nonprofit marketing and fundraising when used effectively.
Introduction
Just like fundraising and bookkeeping, marketing is one of the essential tasks that nonprofits must do to be successful. Effective marketing campaigns involve multiple platforms, helping nonprofits reach wider audiences and establish more touchpoints with supporters. While digital platforms like social media are discussed most often, don't discount the value of more traditional methods like direct mail.
Direct mail fundraising involves mailing your donors requests for support or materials that spread awareness of a fundraiser. This communication method tends to feel more intimate, personal, and authentic to your supporters than digital marketing, showing that you took the time to create and mail a message intended just for them.
In this guide, we'll explore four best practices nonprofits can use to improve their direct mail fundraising strategy:
No matter what platform your organization is using, the best way to motivate supporters to get involved is by using tactics and messaging that resonate with them. First, we'll cover how you can use your donor data to uncover supporters' preferences, interests, and reasons to give.

1. Start with your data.
If you run or work for an established nonprofit, you have likely accrued large amounts of donor data since your nonprofit was started. And if your nonprofit is newer, you still have a wealth of sector-wide and demographic-based trends that can help you understand what will resonate with your audience.
Here are some types of donor data you should analyze:
Demographics such as age, gender, marital status, education, occupation, and geographical location.
Psychographics, or components of your donors' lifestyles. For example, supporters of a nature conservation nonprofit may do things like recycle, bike to work, camp, and hike.
Philanthropic involvement and giving behaviors such as giving or volunteering with similar organizations, the amount they typically donate, and how often they make contributions.
Wealth indicators like net worth, real estate ownership, stock holdings, and other investments.
Communication preferences such as which platforms they use and when.
These data points will help you establish a baseline as to who your donors are, what they are passionate about, and why they are interested in supporting your organization.

2. Tailor messages to your audience.
After examining your donors' data, you can apply your findings to your direct mail campaigns. Pursuant's guide to direct mail fundraising recommends building a target donor profile for each campaign based on the demographics, psychographics, giving habits, and preferred communication channels of your donors.
Let's say your land conservation nonprofit builds a target donor profile. These donors are between 35 and 60 years old, live in urban and suburban areas, have a passion for nature, hold altruistic values, and give regular, recurring donations. Their donation size is significant, ranging from $500 to $5,000, and they are open to making major gifts and learning about legacy giving.
Based on this profile, the copy of your direct mail may look something like this:
Dear [Donor Name],
Warm greetings from [Nonprofit Name]!
Your unwavering support and dedication to nature conservation have not gone unnoticed. We are immensely grateful for your continued support and commitment to protecting our environment.
Thanks to your generosity:
5 acres of wilderness were preserved
25 students were inspired through education
2 community events were organized to build connections
We're excited to do more together. Let's chat!
Gratefully,
[Nonprofit Name]
Make sure to build as many of these profiles as you need to address different donor segments. For example, donors who give small donations once a year might be happy with a more generic, postcard-style mailer. Major donors, however, would likely prefer a very personalized message from a member of your board or development team (alongside other donor stewardship efforts).

3. Make mail exciting.
You may hold the misconception that direct mail is a flat or uninteresting medium, especially when compared to dynamic digital channels. However, getting creative and making your mail engaging will allow your organization to stand out in your supporters' mailboxes and increase response rates.
Here are some ways to add intrigue to your direct mail:
Customize with your branding. The easiest way to catch your supporters' eyes is to make your mail attractive. Incorporate your brand colors, logos, and imagery whenever possible. Not only does this make your audience more inclined to open and read your mail, but it can also boost awareness and recognition of your nonprofit.
Use compelling headlines. Depending on the style of your direct mail, you may be able to add a headline that summarizes the intent of the message. Keep in mind that this headline should be short and simple so readers understand it with just a glance. Consider a title like, "You Can Save Lives Today — Join Our Fight Against Hunger!" that is engaging and informative.
Link to multimedia or long-form content. Add scannable QR codes on direct mail that take the viewer to engaging online content your nonprofit has made. For example, you might direct them to an emotional video that shows donors why you need their support or link to a blog post with testimonials from your beneficiaries.
Not only do links and QR codes make direct mail campaigns more engaging, but they also bridge the gap between mail and your nonprofit website. This enables recipients to donate online, explore other content on the site, and even sign up for other involvement opportunities.

4. Engage outside of fundraising campaigns.
While the main goal of a direct mail campaign is to solicit donations for your organization, only reaching out with requests for your supporters' money may start to make them feel like walking ATMs.
Instead, make sure to reach out to your loyal supporters for reasons outside of your current fundraising campaign. This could mean sending them mail to celebrate certain milestones they have with your nonprofit (e.g., their five-year anniversary of being a donor) or even writing them a birthday or holiday card.
Additionally, be sure to send thoughtful, personalized thank-you letters to your supporters any time they make a contribution toward your cause. eCard Widget's guide to donor thank-you letters recommends strategies like using donor-centric language, highlighting the concrete impact of the contribution, and telling real stories. These elements will make your thank-you message feel genuine and show that you value each and every contribution.
Conclusion
Direct mail can help you reach and engage your donors in a unique, personal way. When you send them direct mail appeals that are tailored to their level of involvement, interests, and preferences, you'll create a deeper sense of community among your donors. Donors who feel like they are an intrinsic part of the work your organization does are the most likely to remain loyal supporters of your cause for the long haul.
Join more than 45,000 others
who subscribe to our free, email newsletter.  It's information that will empower your nonprofit!