501(c)(3) University Is Now Enrolling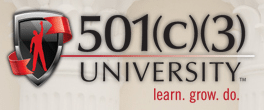 We have enormously exciting news to bring to you this morning:  501(c)(3) University™ is now enrolling!
For those of you who have followed Foundation Group for a while, you may be familiar with the concept of 501(c)(3) University.  We launched an education initiative of the same name late in 2011.  Most of the content consisted of on-demand webinars taught by a number of nonprofit professionals from all across the country.
Building upon that success, we have joined forces with Wayne Elsey, founder of the Nashville-based charity, Soles4Souls, for the 2nd generation of that initiative which has just launched.  Soles4Souls became one of the fastest growing charities in the US and now resides in the top 1% of nonprofits in 6 short years under his leadership. Wayne's vision is to help the nonprofit world achieve greater impact through various means and the principles of his book "Almost Isn't Good Enough".  As we hand the baton to Wayne, we know his version of 501(c)(3) University will achieve tremendous results.  We are excited to be a part of it!
501(c)(3) University will gather expertise from the sharpest minds in the nonprofit world to help shape the body of knowledge that this online University for Nonprofits will offer to organizations. The launch segments will focus on:
Strategic Planning
Formation and Compliance
Management and Governance
Leadership Development
People Management
Volunteer Management
Marketing and Communications
Donor Cultivation and Fundraising
And much, much more
This October roll out is really considered a "soft-launch".  By that, we mean that there is vastly more content yet to come than what is currently available.  What does that mean for you?  As an early bird subscriber, you have the opportunity to become a member for only $49, a significant savings over the annual subscription price at hard launch in February 2013.  Plus, you will receive some great bonuses for being one of the first subscribers.
This is no small initiative.  The goal of 501(c)(3) University is to bring real solutions to the thousands of small, community-based nonprofits that struggle to achieve the level of effectiveness they need.  Join today and change your charity forever!